We recently got back in touch with Lindsey Weiss, a 2008 alumna of our high school summer program abroad: Global Awareness in Action El Salvador. She is now majoring in Health: Science, Society, and Policy at Brandeis University. She talked with us about how her summer program abroad for high school students shaped her academic pursuits and she also filled us in on her exciting new plans for a medical expedition to Honduras.  
Can you describe your experience with Global Awareness in Action El Salvador? 
My experience with Putney in El Salvador was amazing. El Salvador opened my eyes to many global issues and allowed me to develop an appreciation of Hispanic culture that has shaped my view of the world today.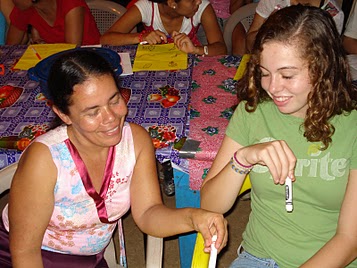 We spent our first few days in the capital city, San Salvador. During our time there, we stayed in a hostel owned by a husband and wife who had lived through the recent civil war.  We listened to their stories, heard about the hardship they had faced, and asked many questions. We also visited the US Embassy, and various NGOs to gain a holistic understanding of the country.  Next we headed to Santa Marta, a small village near the border with Honduras, where we would spend the majority of our time.  We took with us all that we had learned during our time in San Salvador.  In Santa Marta, we lived just like the local people – with bucket showers and outhouses.  I volunteered in the local health clinic, made health education posters,  gave talks to local people about nutrition, and assisted the doctor with basic first aid.
Is there one moment or memory in particular that has stuck with you from that high school summer program abroad?
I remember the strong sense of community that I felt while living in Santa Marta. I had never seen such a close-knit community before. The first night we arrived, many people from the village greeted us with a big dinner and played songs for us. Throughout our time there, they shared their lives with us and allowed us to gain a better understanding of their culture. They opened their homes, organizations, bakeries, clinic, and schools to us. We developed close friendships with kids in town and at the end of the trip they threw a big going away party for us.

Please describe the group environment, what were your leaders like? What were the other high school students like?
The other students in my group were some of the most intelligent and passionate people I have ever met.  I had never met other kids my age who were so down to earth. We connected with the people in the town and wanted to help in any way we could. I became close friends with the most of the students in my group and still remain in touch with many of them today.
My leaders, Shereef & Melissa, were very knowledgeable and helped us to better understand the issues that El Salvador faced. Shereef taught us the importance of being a traveler rather than a tourist; I still incorporate that value into my life when I travel.  He also told us that going to a country like El Salvador would help us to realize how much we  can do without, not how fortunate we are.  Melissa taught us a lesson about immigration that she had experienced with her previous work.  All of these lessons were very moving and encouraged our group to absorb all that we could during our time in El Salvador.
Please connect the dots from your experience in El Salvador with Putney to what you are up to today. What have you been doing and what are your plans for the future?
I'm currently a sophomore at Brandeis University and am majoring in Health: Science, Society, and Policy. I plan to minor in Hispanic Studies. My work in the clinic while in El Salvador really opened my eyes to the public health issues that exist in many third world countries and influenced me to further pursue my interest in health care.  I hope to pursue a job in the medical field after going to graduate school. In addition, my experience in El Salvador deepened my interest in the Spanish language and culture, which is why I plan to minor in Hispanic Studies.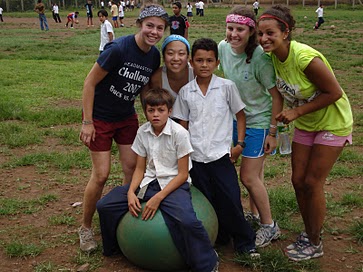 How do you feel your Putney experience in El Salvador has prepared you for your studies at Brandeis and your upcoming medical expedition in Honduras?
Global Action El Salvador helped broaden my perspective on global issues and enabled me to open my mind to other ways of life. These experiences most definitely prepared me for college life at Brandeis, where I've continued to focus on issues of international development on both academic and personal levels.
In February, I will participate in a Global Medical Brigade to Honduras where we will take vitals and teach health education in a village. Honduras borders El Salvador, and many people in the village of Santa Marta fled to Honduras during their country's civil war. While on my Global Action program, our group swam across the Rio Lempa (which forms the border between El Salvador and Honduras) to experience what it would have been like to flee to Honduras during the civil war.  Because of my past experience with Putney, I feel very prepared going into this trip.

When you think about returning to Central America, what is the first thing that comes to mind? How do you think you'll feel when you step off the plane?
When I think about returning to Central America, I get very excited!  I'm excited to be able to see another way of life and culture again. When I first step off the plane, I think I'll be reminded a lot of my time in El Salvador.  I am sure that it will bring back many memories of the life-changing experiences I had during the summer of 2008.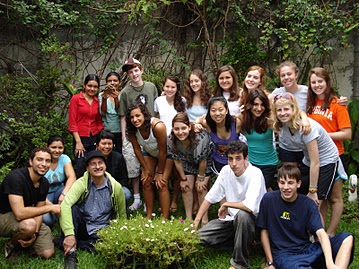 Do you have any advice for future high school students of summer programs abroad?
1. Be open minded to all kinds of life, cultures, and people.
2. When traveling to your respective country on a Putney program, become aware of the         country's history, political, and social issues
3. Be a traveler, not a tourist!