Letter from the Directors
Welcome to Putney's 73rd season!
Over the course of seven decades, the importance of our core mission—to change students' lives—has grown significantly. When our grandparents (and Peter and Jeff's parents) led that first group of 18 high school students by ship to Europe, in a world still reeling from the aftershock of World War II, they sought to usher them out of their comfort zones and teach them to embrace what is new and different. They strived to develop thoughtful and well-rounded young leaders through experiential, intellectual, emotional, and cultural engagement, while keeping them safe.
As we prepare for our 73rd summer as a family-run organization, now in its third generation, empowering students to be leaders is more important than ever. Young people live with a set of unprecedented challenges: a warming planet that requires immediate action, social isolation from a recent pandemic, growing division and hostility at home and abroad—not to mention the stresses brought on by social media and the high-stakes pressure of getting into a big-name college. The result is a generation of lovable kids who are more isolated, programmed, and anxious than ever before.
Summers with Putney help to overcome this reality by inviting participants to embrace new friends, cultures, and experiences through innovative programs that foster maturity, self-confidence, intellectual stimulation, and personal discovery. We help empower students to take charge of their futures by inspiring them to lead in today's world. Our alumni and parents repeatedly describe their Putney experiences as priceless and life-changing. One parent put it succinctly by saying of her student's summer, Putney "put the light back in her eyes."
That outcome is the best part of the work we do together with our creative colleagues. Ultimately it is that learning, growth, and light that all parents seek for their kids before they head off to blaze impressive paths for themselves in college and beyond. It's what we at Putney work year after year to create and deliver. We call it the "Putney Magic."
In an era where educational summer programs increasingly are owned by venture capital firms, we are proud to be family-directed and female-led. As two sisters who have been virtually joined at the hip since birth, Putney has always been a part of us. As young children we worked in the kitchen at our annual leader training, in awe of those many inspiring individuals; as high school students we participated in Putney programs; and later we joined the team as program leaders. Today, we are privileged to lead this dynamic organization and grateful that our dad Peter and uncle Jeff remain deeply involved.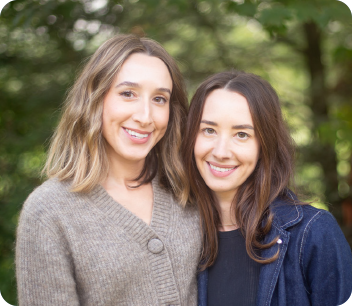 Choosing the right summer program can be overwhelming. Putney and our many collaborators (some of the world's best organizations and universities) offer the most challenging and respected summer programs that meet the needs of almost every student. Please give us a call so we can help you choose the most impactful program.
We look forward to learning more about your goals and hope you will apply.
Olivia & Becca Shumlin and team