Putney Student Travel offers service programs abroad for high school and middle school students in numerous countries throughout Africa, Asia, Latin America, and the South Pacific. Putney service projects make a difference by building friendships and cultural understanding with people in our host communities through common purpose, hard work, accomplishment, and real human connections. 
We do not subscribe to the colonialist view that we are providing knowledge, resources, or improvements to struggling people that, without our participation, the community would not accomplish for themselves. With seven decades of experience in educational student travel under our belts, and three decades of summer service programs, we see service as a catalyst for true friendship and understanding that one would never otherwise gain
Purposeful Learning Abroad: Community Service at the Local Level
Middle and high school students learn through collaborative and relevant community service projects in small, rural destination communities abroad. Each host community chooses volunteer projects that serve local needs. 
Examples of Student Community Service Team Projects
Improve a school or community center

Repair housing for a low-income family

Develop lesson plans and tutor schoolchildren in English

Run a summer camp for local children
Through their service projects, students immerse themselves in their host community, learn new skills, and build friendships across cultural and linguistic boundaries. Every summer, Putney students return home changed by their experience abroad, discovering an important truth about service: In working alongside our hosts to improve communities, we gain as much as we give.
Independent Student Projects in an Immersive Atmosphere
On both our middle and high school community service trips abroad, each student designs an independent project to engage in local life. Trip leaders offer guidance and support to help create a project tailored to the interests of the student, which you then share with the entire group at the end of the trip.
Examples of Student Independent Projects
Organize a sporting event

Learn to play a traditional instrument

Shadow a dairy farmer

Document a day in the life of a local teenager

Make repairs to the goal at the village soccer pitch

Interview farmers about the harvest

Organize a mural painting activity with local schoolchildren
Gaining Knowledge Through Cultural Connections Abroad
Our student service programs extend beyond the local destination community to include opportunities for unique and authentic cultural experiences. Throughout your trip, take excursions from your host community to explore the cultural richness and scenic beauty of the region in which you're based.
Examples of Excursions & Activities
Learn to surf in the Moroccan beach town of Essaouira

Ride horseback across the Andean altiplano in Peru

Snorkel with sea lions in the Galápagos Islands off of Ecuador

Visit a floating village in Vietnam's Ha Long Bay

Walk with Maasai warriors across ancestral lands in Tanzania
Our Service Trip Leaders
We choose accomplished, responsible, and inspiring community service group leaders who bring a wealth of talent and wisdom to our student travel programs. Many hold multiple bachelor's or advanced degrees in areas of study that have prepared them for community service leadership roles, including International Education, International Business, Industrial Design, Human Development, Intercultural Relations, Conservation Biology, Anthropology, Outdoor Recreation, and Religious Studies, to name a few. Many have experience working with youth and teaching English as a Second Language (ESL), and each is comfortable navigating the culture of the host country, with extensive experience in international living and travel.
In short, our incredible leaders are poised to help students get the most out of their summer community service experience and emerge with a deeper understanding of themselves and the world. Click here to meet our leaders.
What It Takes to Succeed on a Service Program
To succeed on a Putney Student Travel community service program, you must be willing to work hard, be sensitive toward others, be excited to collaborate with your host community, and have the ability to live simply. Upon completion of your program, Putney awards a certificate recognizing 30-100 hours of community service abroad, depending on the program length and the work completed.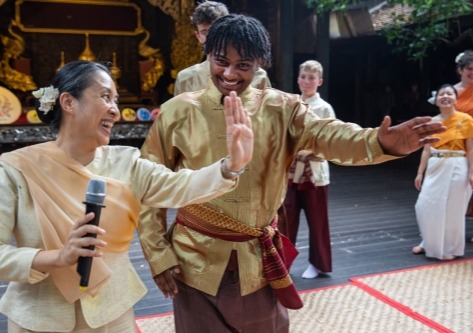 Putney groups work alongside local people and with respected community-based organizations, connecting through purposeful work and learning across cultures. Putney's approach to Service is aligned with the UN's Sustainable Development goals to address poverty, hunger, and inequality through efforts in education, health, the environment, social and racial justice, and community development.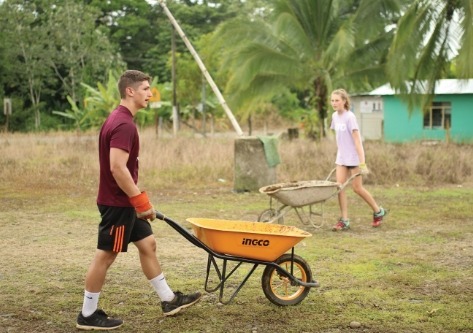 Putney partners with host communities and trusted local contacts. Since developing our first Service programs in the early 1990s, our aim is always to develop long-term relationships. Projects are identified by working closely with the local governing body to assess the greatest need and potential for lasting and meaningful impact in the community.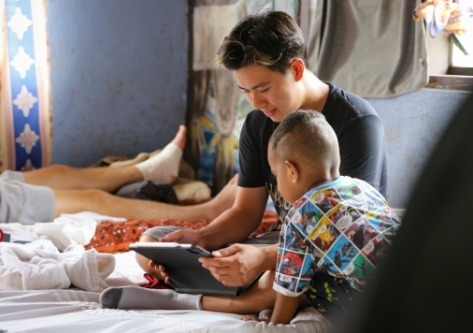 Putney Service students step out of their comfort zone, learn and practice cultural humility, examine their own beliefs, and reflect on their own cultures while learning about another. In doing so, they broaden their perspectives, explore their sense of purpose, and tap into their leadership potential to make positive change in their home communities.
"He gained global, cultural, and socioeconomic awareness, personal growth and development, a greater sense of purpose, and an ability to impact others by giving of his time and effort."
— Amanda & Jonathan C., Excelsior, MN